Coscollola - long-standing partner for injection molding machinery in Spain
"We are delighted with this long-standing partnership, which is entirely in the interest of our continuous development", said Frank Peters, Vice President Sales at KraussMaffei. "Together we have built up a strong and successful market position in Spain. I am firmly convinced that we will also remain strong in future and will increase our market shares." The success story started in September 1962 when Coscollola (Barcelona) became the KraussMaffei agency for injection molding machinery in Spain. This cooperation led to the delivery of the first injection molding machine in January 1963. The machine model at that time was still the MonOmat 150S (manufacturer: Eckert&Ziegler). However, the first KraussMaffei V110- 700 injection molding machine came to Spain as early as 1964. In 1966 turnover already exceeded DM 1 million, a respectable result in the then still young plastics industry, not least because Spain, before its accession to the EU in 1986, levied a 45% import tax on plastics machines.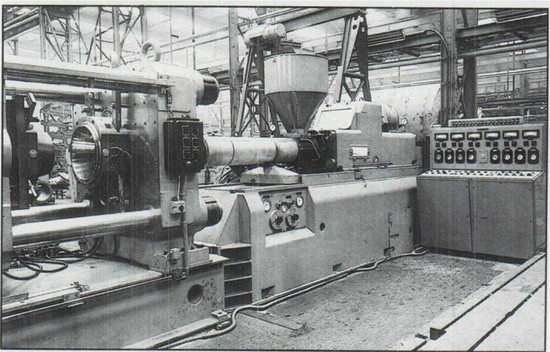 Extensive product portfolio also in extrusion technology
22 Coscollola employees now attend to the needs of Spanish customers. In addition to KraussMaffei injection molding machinery and KraussMaffei Berstorff extrusion technology, they offer their customer base a wide range of peripheral equipment for processing plastics. The Coscolla team does not just regard itself as an agency, but rather as a competent partner for its customers. "We focus on customers and their needs and requirements throughout the entire production period", explained Ricardo Coscollola, Managing Director of Coscollola Comercial SL. "We therefore regard it as extremely important that we ourselves also possess competence in engineering, technical support, commissioning and service. This makes us unique on the Spanish plastics market." There is enormous competitive pressure amongst Spanish plastics processors, which is increased even more due to intense global competition. Recently awarded orders are a clear indication that Coscollola is doing very well in this environment.
FPK (Bilbao) – IMC injection molding compounder for automotive structural components made of long glass fiber-reinforced thermoplastics. This rapidly expanding company ordered another MX 2700-24500 IMC injection molding compounder, including an extensive KraussMaffei automation solution for a factory in Brazil.
Herolse (Barcelona) – Flexible multi-color machines based on the MX series With the recently ordered MX-Z 1450-4300/1400, the toolmaker is investing in a flexible manufacturing system for multi-color/multi-part components. The special highlights of the machine are the movable injection units which can operate different sprue gates in the molds and are therefore suitable for all current injection positions. The machine is ideally suited to carrying out trials of new molds for well-known OEM customers and also for the production of small and pre-series batches.
At present there is strong demand, in particular, for compounding extruders from the KraussMaffei Berstorff range of extrusion machines. In spite of a difficult market situation in the building industry, some successful projects in pipe extrusion were implemented this year.