Overview
Quick Details
CAS No.:
63469-23-8
Other Names:
63469-23-8
MF:
C11H26N2O2
EINECS No.:
C11H26N2O2
Place of Origin:
Shanghai, China
Type:
Agrochemical Intermediates, Dyestuff Intermediates, Flavor & Fragrance Intermediates, Pharmaceutical Intermediates, Syntheses Material Intermediates
Purity:
0.95
Brand Name:
NewTop
Model Number:
NewTop
Application:
Polyurethane Catalyst
Appearance:
Colorless or light yellow liquid
Supply Ability
Supply Ability:
1000 Ton/Tons per Month
Packaging & Delivery
Packaging Details
Drum,25 kg ,200L
Port
ShangHai
Picture Example:
package-img
Chinese name: N-(dimethylaminopropyl) diisopropanolamine
English name: N-(3-dimethylaminopropyl)-N,N'diisopropanolamine
CAS number: 63469-23-8
Relative molecular weight: 218.3
Molecular formula: C11H26N2O2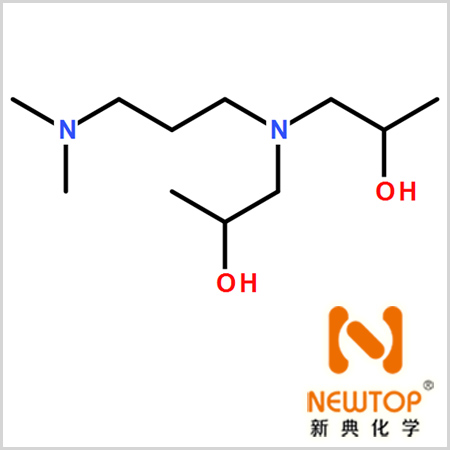 Physical and chemical properties
Dimethylaminopropylamine Diisopropanol is a colorless or pale yellow liquid that is soluble in water.
Relative density (25 ° C): 0.95
Viscosity (25 ° C): 145 mPa.s
Hydroxyl value: 514 mg KOH / g
Flash point (PMCC): 90 ° C
application
Dimethylaminopropylamine diisopropanol is a low odor reaction type catalyst with outstanding balance and versatility, providing good fluidity; dimethylaminopropylamine diisopropanol is mainly used for polyether polyurethane soft Foaming, molding foam, hard foam, and the like.
Company Name:

Newtop Chemical Materials (Shanghai) Co., Ltd.

Sales Manager:

Hunter

E_Mail:

Telephone:

86-021-5657 7831

Fax:

86-021-5657 7830

Address:

Rm. 1104, No. 258, Songxing West Road,
Baoshan District, Shanghai, China (Mainland)

Website:

Website on alibaba: